Focus Foundation 6: Understanding Body Language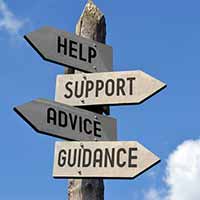 Do you know what your body language is saying about you, and how do you make sure it's giving the impression you want to give.
Did you know that only 7% of communication is achieved through the words we say … our body language and behaviour is saying a lot more tha nwe might realise.
We'll take an informal and candid look at our behaviour and the signals we give out to others through our non-verbal communication. This session helps you to develop skills to enhance those messages, especially with first impressions, and will heighten your awareness to other people's behaviour and what their signals mean.
What we ask from you
As we are a funded project, we ask that when you sign up for our training sessions, you agree to complete 12 hours of training.
Eligibility criteria apply as this programme is only available to people who live in specific postcode areas. If you live outside our postcode areas we will aim to point you towards other programmes.
About the Programme:
Focus from the Outset provides tailored support to unemployed or inactive individuals who want to develop personal skills, build confidence, and be inspired to return to education or training, active job search, and employment (including self-employment)
Individuals work with a personal advisor to develop a bespoke plan of 1:1 coaching support and participation in small group sessions. Each individual can choose the sessions that are most appropriate for their needs.
Focus from the Outset is a Community Led Local Development project (funded by the European Regional Development Fund, European Social Fund and Outset Foundation)

Monday, 26 October 2020
2:00 pm – 4:00 pm
Online
Eligibility criteria apply
Please give us a call on 07731 015151 to find out more, or check your eligibility below.
If you are not eligible for this project, we will put you in touch with someone who can help.